Residential Movers in Erie, Serving Northwestern and Central PA, Southern Tier of NY, and Northeastern OH Metro Areas
Packing up and moving your entire household, or even just a small portion, is an enormous task regardless of whether you are moving just down the street or across the country. Let the certified professionals at J.H. Bennett eliminate much of the stress felt while planning your move by customizing your moving experience so that it is exactly what you want it to be.
Our consultants have more than 50 years of industry experience and can advise you on all of the services available – from professional packing and crating to proper and safe handling of today's high tech electronics.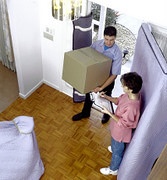 Here are a few of the questions your
J.H.
Bennett consultant will ask:
Who will pack the cartons? You? Your Mover? A combination of both?
Will you need assistance with appliance disconnects or reconnects?
Do you have any artwork or items that will require special handling/crating?
Will you need to transport a car or boat to your new location?
When do you want to move?
Whatever your situation may be, take the time to research your mover prior to making any decisions. Remember, if it sounds too good to be true, it usually is!
Read this arcticle for some ways to spot and avoid Rogue Movers
Where Are You Moving?